The Hall of Fame honors leaders in the fields of continuing education and adult learning,
and serves as a record of inspiration for the next generation of continuing education leaders.

Annually, adult and continuing education leaders from around the world are selected for
induction into the International Adult and Continuing Education Hall of Fame.

These individuals reflect the great diversity of adult and continuing education practice and scholarship
and the increasingly global leadership community that constitutes the IACE Hall of Fame
On this page we supply additional information about and for members of the Hall of Fame specificly in the European region.
Block this date:
Next induction ceremony: Belgrade, Serbia, September 19-20, 2019.
Hall of Fame Europe (HoFE) create Think Thank
At a conference in Zürich 7 – 8 September 2016 a group of European inductees in the International Adult and Continuing Education Hall of Fame met to discuss further cooperation about the future of adult education in Europe and the role of HOFE. More:

February 1 and 2, 2018: Meeting of the ThinkTank group in Berlin, Germany: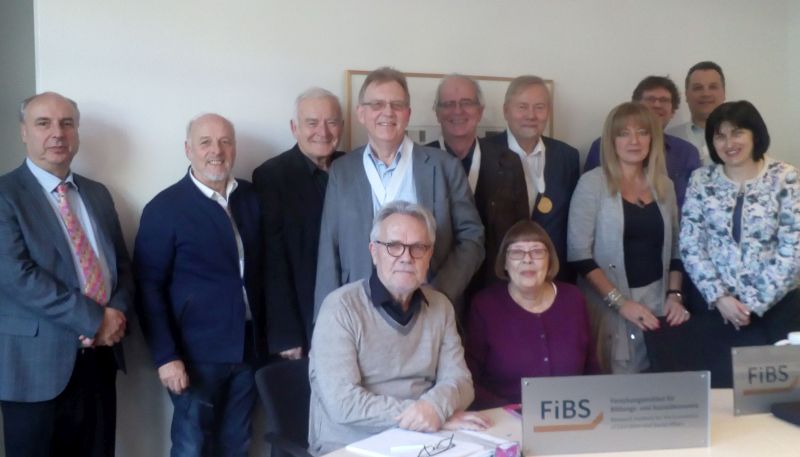 left to right: Nicholas Fox, Jost Reischmann, Janos Toth, Andre Schlaefli, Sturla Bjerkaker, Ekkehard Nuisssl, Arne Carlsen, Sue Waddington, Katarina Popovic, Dieter Dohmen, Balasz Nemeth, Simona Sava.
---
Induction Ceremony November 2017 in Suwon City, South Korean
The 2017 European Inductees:
| | | |
| --- | --- | --- |
| Arne Carlsen, Copenhagen, Denmark | Balasz Nemeth, Pecs, Hungary | Simona Sava, Timisoara, Romania |
The 2016 European Inductees (Orlando, Florida):
| | | |
| --- | --- | --- |
| Vladimir Gutu, Moldavia | Andor Maróti, Hungary | Sue Waddington, GB |
---
Most Hall of Fame Europeans still active in Adult Education
By Sturla Bjerkaker
sturlabjerkaker@gmail.com

During last Autumn, we presented a Survey for the European inductees of the International Adult Continuing Education Hall of Fame (hereafter HOFE-members). A letter and a questionnaire was sent to the 35 HOFE-members who are alive and inducted up to and including 2015 (Oklahoma, November 2015). After two rounds of reminders, we received 22 answers, close to 60 per cent. The Hall of Fame members from Europe covers the following countries: Denmark (1), Finland (1), Norway (1), Sweden (1), Germany (5), Switzerland (3), Romania (3), Scotland (1), United Kingdom (9), Ireland (1), Portugal (2), Serbia (3), Hungary (2), Bulgaria (1), France (1) and Holland (1)
Eleven of the respondents were inducted from the yer 2010 and up to date, while eleven were inducted before 2010. It seems to be slightly equel engagement for the Hall of Fame , regardless when they were inducted.
Most of the respondents are or have been engaged at universities (15), while half so meny (7) have or have had the public or the NGO sector as theis primary base for occupation.
A quite intersting finding was that almost all the respondents still are involved in Adult learning and Education (ALE) in some way or another. On the other hand: The people still engaged in the sector would probbly be more likely to answer our survey…

The survey was made posssible due to a project financed by the Swiss Adult Education Association (SVEB) and its director, Andre Schläfli.
For the full report of the Survey

.
---
---
Since April 1, 2015 we had
visitors to this page.