Archive
Obituaries
We plan to remember here our deceased European Hall of Fame Members. Please send us the name and link to obituary.
Chris Duke
, -2023:
Special issue of PIMA honoring Chris Duke
Dusan Savicevic
, 1926-2015:
John Henschke: DUSAN M. SAVICEVIC– WORLD's BEST ANDRAGOGY RESEARCHER
Lalage Bown
, 1927-2021:
University of Glasgow
,
The Guardian newspaper
Günther Dohmen
, 1926-2022:
Deutsches Institut für Erwachsenenbidung
,
Schwäbisches Tagblatt
---
2022
HOF-members at Singapores Global Lifelong Learning Summit
Singapore hosted its first Global Lifelong Learning Summit on 1-2 November 2022. Organised by the Institute for Adult Learning, Singapore University of Social Sciences and SkillsFuture Singapore, and in partnership with the ASEM Lifelong Learning Hub, the UNESCO Institute for Lifelong Learning, the ILO and the OECD, the Summit attracted around 700 participants. The topic centered on lifelong learnin (HOF 2015)g as a key enabler to impact lives and maintain employability. Lifelong learning requires an eco-system of learners, institutions, enterprises and Government to work in concert. What collaborative models across these stakeholders are most effective? What needs to change to ensure that the socio-economic impact of lifelong learning is maximized?
The first session on Global Experiences in Lifelong Learning Policy Development and Implementation was moderated by Raul Valdes Cotera (HOF 2022), and session four on the ASEM Lifelong Hub – Enabling Capital for Lifelong Learners, was moderated by Séamus O'Tuama (HOF 2022). Further two HOF members participated, Wing On Lee (HOF 2022), and Arne Carlsen (HOF 2017). Three ministers delivered keynotes, and important messages on impact were formulated by the partner organisations. A ministerial panel discussion on A Future-Ready Lifelong Learning Ecosystem concluded the Summit. Singapore plans to hold such Global Lifelong Learning Summits every two years.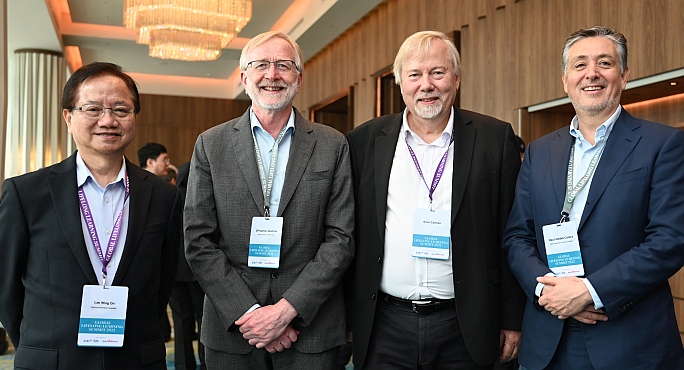 from left to right: Prof. Wing On Lee, (Singapore, HOF 2022), Executive Director of the Institute for Adult Learning, Singapore University of Social Sciences; Dir Séamus O'Tuama (Ireland, HOF 2022), Chair of the ASEM Lifelong Learning Hub, Prof.(H) Arne Carlsen (Denmark, HOF 2017), Chair of the Expert Review Panel, Workforce Development Applied Research Fund, SkillsFuture Singapore; Teamleader Raul Valdes Cotera (Mexico, HOF 2022), coordinator of the UNESCO Global Network of Learning Cities.
From André Schläfli and Sturla Bjerkaker to Eva Farkas and Arne Carlsen:
Hall of Fame Europe has new chairs!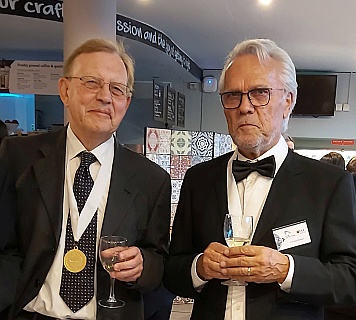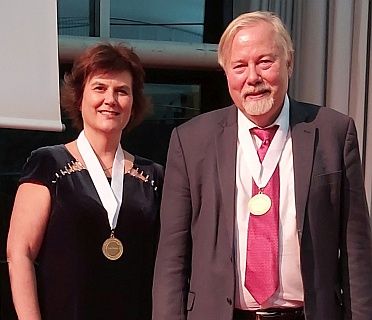 In the business meeting in Cork (Sept. 27, 2022) new chairs were elected. Thank you to André and Sturla for their engaged work! Congratulations and good luck to Eva and Arne as our new leaders! Thank you to Simona Sava for the photos!
2016
Hall of Fame Europe (HOFE) create Think Thank

At a conference in Zürich 7 – 8 September 2016 a group of European inductees in the International Adult and Continuing Education Hall of Fame met to discuss further cooperation about the future of adult education in Europe and the role of HOFE. More:

2015
Most Hall of Fame Europeans still active in Adult Education
During Autumn 2015, Sturla Bjerkaker presented a Survey for the European inductees of the International Adult Continuing Education Hall of Fame. For the full report of the Survey

.
---